Warning
: Illegal string offset 'source_type' in
/home/mychutej/public_html/blog/wp-content/plugins/egany-facebook-to-wp/egany_facebook_to_wordpress.php
on line
1099
For the first time, WHO released a list of antibiotic-resistant bacteria that are of public health importance. The list was drawn up in a bid to guide and promote research and development (R&D) of new antibiotics, as part of WHO's efforts to address growing global resistance to antimicrobial medicines.
Antibiotic resistance occurs when bacteria change in some way that reduces or eliminates the effectiveness of drugs, chemicals, or other agents designed to cure or prevent infections. The list highlights in particular the threat of gram-negative bacteria that are resistant to multiple antibiotics.
Related Article: Today, A Disease-Free World is Possible
Factors used to determine the bacteria posing the most risk included the levels of resistance seen already, the mortality rates of these bacteria today, their prevalence out in communities and the burden they place on health systems. The list was developed in collaboration with the Division of Infectious Diseases at the University of Tübingen, Germany, using a multi-criteria decision analysis technique vetted by a group of international experts.
It is divided into three categories according to the urgency of need for new antibiotics: critical, high and medium priority.
Related Article: The Next Epidemic Could Originate on the Computer Screen of a Terrorist- Bill Gates
The most critical group of all includes multi-drug resistant bacteria that pose a particular threat in hospitals, nursing homes, and among patients whose care requires devices such as ventilators and blood catheters. The second and third tiers in the list – the high and medium priority categories – contain other increasingly drug-resistant bacteria that cause more common diseases such as gonorrhoea and food poisoning caused by salmonella.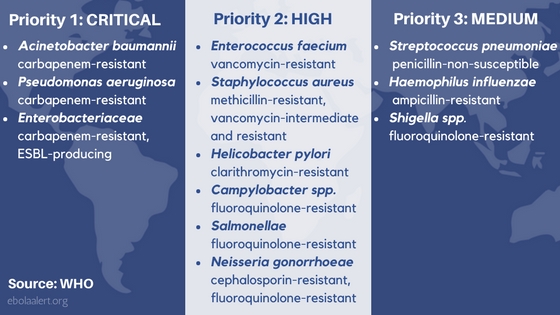 The list is intended to spur governments to put in place policies that incentivize basic science and advanced R&D by both publicly funded agencies and the private sector investing in new antibiotic discovery.
Source: WHO
Total Views: 4561 ,