Warning
: Illegal string offset 'source_type' in
/home/mychutej/public_html/blog/wp-content/plugins/egany-facebook-to-wp/egany_facebook_to_wordpress.php
on line
1099
WE MOVED THE TIME: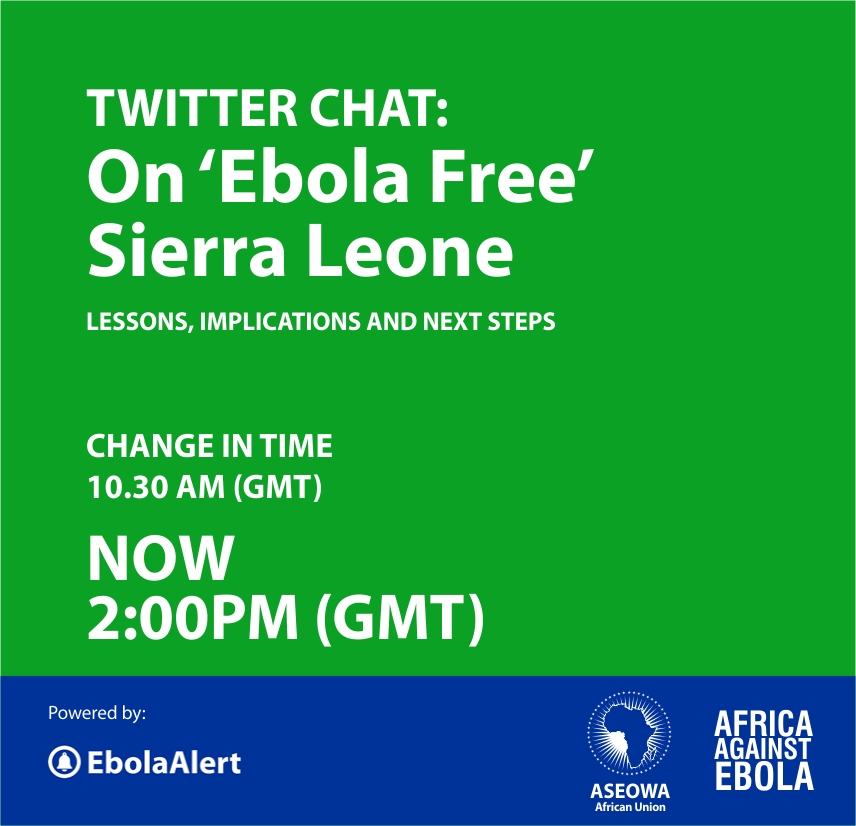 Sierra Leone will be declared 'Ebola Free' on Saturday. This is a great milestone for humanity, Africa, West Africa and the entire people of the country. The country had a total of 14,089 cases out of which 3955 died.
Given the dynamics of the outbreak in the country; where epidemiologists had projected cases would rise exponentially, which was then followed by the global response to that devastating epidemiological projections, and the eventual outcome which will be celebrated on Saturday, we believe there is the need to highlight these experiences and the lessons learned. The online conversation will also provide opportunities to address the next steps for the country and their partners as the continue to manage post Ebola conditions.
The panelists at the session tomorrow are:
Tunis Yahya
Head of Communications, National Ebola Response Committee, Sierra Leone
Carl Manlan
Executive Secretary, Africa Against Ebola
Ebba Kalondo
Communications, World Health Organisation, Sierra Leone
EbolaAlert will be hosting a Twitter Chat on Friday 6th November 2015.
The Twitter Chat will hold between 10.30am and 11:30am (GMT) on twitter.
You may follow @EbolaAlert on twitter to join the conversation.
Total Views: 2882 ,