Warning
: Illegal string offset 'source_type' in
/home/mychutej/public_html/blog/wp-content/plugins/egany-facebook-to-wp/egany_facebook_to_wordpress.php
on line
1099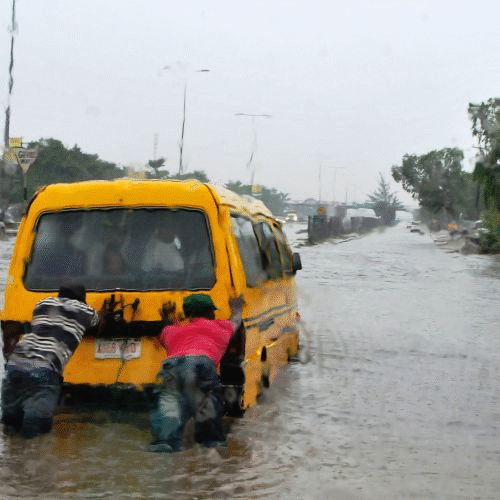 The climate of South-Western Nigeria is tropical, with Lagos State is geographically seated 39 metres above sea level and an intense rainy season between April and July.
In recent days, Lagos, Africa's most populous city with a population of 12 million people, has been hit by heavy flooding in a number of areas of the State.
Related Article: A New Path to a Beautiful, Healthy Lagos Opens.
Citywide, Lagosians spent most of the weekend indoors sharing videos and photos of flood scenes on WhatsApp as well as other public social media platforms like Twitter and Facebook.
Floods can potentially increase the transmission of the following communicable diseases:
Water-borne diseases, such as typhoid fever, cholera, leptospirosis and hepatitis A 

Vector-borne diseases, such as malaria, dengue and dengue haemorrhagic fever, yellow fever, and West Nile Fever



Water-borne diseases
Flooding is associated with an increased risk of infection, however this risk is low unless there is significant population displacement and/or water sources are compromised.
The major risk factor for outbreaks associated with flooding is the contamination of drinking-water facilities, and even when this happens, the risk of outbreaks can be minimized if the risk is well recognized and disaster-response addresses the provision of clean water as a priority.
Vector-borne diseases
Floods may indirectly lead to an increase in vector-borne diseases through the expansion in the number and range of vector habitats. Standing water caused by heavy rainfall or overflow of rivers can act as breeding sites for mosquitoes.
The risk of outbreaks is greatly increased by complicating factors, such as:
Changes in human behaviour (increased exposure to mosquitoes while sleeping outside, a temporary pause in disease control activities, overcrowding),

Changes in the habitat which promote mosquito breeding (landslide, river damming, and rerouting).
Other Health Risks Posed by Flooding
These include drowning and injuries or trauma.

Hypothermia may also be a problem, particularly in children and the elderly, if trapped in floodwaters. There may also be an increased risk of respiratory tract infections due to exposure (loss of shelter, exposure to flood waters and rain).
Diseases Preventive Measures
Chlorination of water: Ensuring uninterrupted provision of safe drinking water is the most important preventive measure to be implemented. Chlorine is the most widely and easily used, and the most affordable of the drinking water disinfectants. It is also highly effective
For point-of-use or household water treatment, the most practical forms of free chlorine are liquid sodium hypochlorite, solid calcium hypochlorite and bleaching powder. The packet instructions must be adhered to.
Malaria prevention: Insecticides: flooding does not necessarily lead to an immediate major increase in mosquito numbers. However, preventive measures such as indoor residual spraying, and the  retreatment/distribution of ITNs are key
Health Education:
Promote good hygienic practice.

Ensure safe food preparation techniques.

Ensure boiling or chlorination of water.

Early diagnosis and treatment for malaria (within 24 hours of onset of fever).

Early presentation at primary healthcare facilities if there are any complaints, such as fever, weakness, vomiting or passage of loose stools.
For location-based surveillance and early response, join the good people living safe with Alert Clinic. Get relevant public health information about your community and across states. Download now on Playstore!
Total Views: 2865 ,