Did you know that Ebola Fever got its name from River Ebola in the Democratic Republic of Congo (Zaire), near which the disease was first observed? While you may not have realized it, many diseases are named after places, animals and industries. It is against this backdrop that WHO has urged scientists, national authorities and media to follow best practices in naming new infectious diseases. The following guidelines have been proposed by WHO in hopes that diseases will be appropriately named. You'll find a summary infographic at the end of this post.
Avoid naming diseases with geo-locations, species of animal or food, cultural, population, industry or occupational references.
It's important to minimize unnecessary negative effects on nations, economies and people when naming diseases.
The use of disease names such as 'swine flu' has stigmatized certain communities or economic sectors.
Disease names can provoke a backlash against members of particular religious or ethnic communities and create unjustified barriers to travel.
Once disease names are established in common usage through the Internet, social media, they are difficult to change, even if inappropriate.
The WHO best practices apply to new infections, syndromes, and diseases never recognized or reported before in humans http://goo.gl/MFbzrT 
Disease name should consist of generic descriptive terms, based on the symptoms that the disease causes – e.g. respiratory disease.
More specific descriptive terms can be added when robust information is available on how the disease manifests, who it affects, and its severity.
If the pathogen that causes the disease is known, it should be part of the disease name (e.g. coronavirus, influenza virus, salmonella).
The new best practices do not replace the existing International Classification of Diseases system, but provide interim guidance.
 You can download the infographic below and share with your friends and colleagues on your social networks.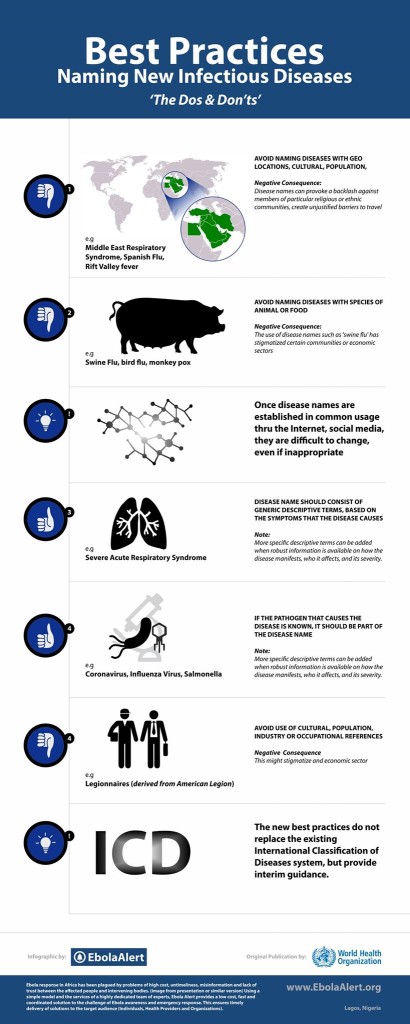 Total Views: 9371 ,